Scotchgard Protector for Carpet, Upholstery & Area Rugs
3M Scotchgard®

 Repels Dirt and Stains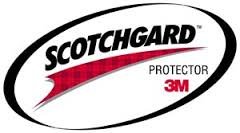 It's always pleasant to see and enjoy those bright and clean carpets that were just cleaned by your local carpet cleaning company. It's not that difficult to maintain that clean look afterwards. Simply just ask one of our Gentle Steam carpet technicians to protect and seal that carpet or that sofa in your house with 3M Scotchguard.
Scotchgard Protector

 & Its Benefits

3M Scotchgard® also known as DuPont Teflon®3M delivers far more superior protection than its competition. It forms a molecular shield around the carpet fibre and protects those fibres from more accidental spills than any other fabric protector on the market today. The protective shield lowers that surface energy of the fibres causing them to repel and push away dirt, dust or spills that might come into contact with the carpet fibres. Therefore, it does not allow any foreign matter to be absorbed by the fibres after it's been properly applied.

3M Scotchgard is by far the most well known product on the market today that holds it's reputation for protecting carpets and upholstery from unwanted intruders. This is why Gentle Steam will only use 3M Scotchgard® / DuPont Teflon® Carpet and Fabric Protector in your home because of its long lasting benefits.

We recommend having your carpet and upholstery Scotchgarded right after cleaning of your carpets or furniture by our knowledgeable carpet cleaner and start enjoying the benefits of this great product. Other great news about 3M Scotchgard® is the price tag itself. It is very affordable to add this additional service to your carpet or furniture cleaning package while we're onsite. Just talk to your local representative at Gentle Steam about 3M Scotchgard®  DuPont Teflon® Protector Today!

Still Not Convinced?
1 Year

 3M Scotchgard® GUARANTEE or you 

Get FREE Cleaning
Gentle Steam is so confident about this product that we're even wiling to offer FREE CLEANING if 3M Scotchgard® fails up to a 1 Year from your invoice. If this product fails to protect your carpet or furniture after it's been applied by our staff member, we will come out to your location, re-clean the problem area and re-apply 3M Scotchgard® or DuPont Teflon® again ABSOLUTELY FREE OF CHARGE TO YOU. That is your Gentle Steam Promise.
Special Deals
Take Advantage Of Our Monthly Coupons